One of the things that I know about Chinese food is that a lot of what is served in Chinese American (or Chinese French or Chinese Irish or….)  restaurants bares little resemblance to what is served in China.
The recipes may have started out as traditional Chinese fare but, over time, were changed to suit the local  tastes.
The Chinese restaurant I installed a computer system in, back in the beginning of time, was typical.
They used a lot of celery.
There was a warren of subterranean kitchens and gardens below the restaurant…. Occupying a much larger area than the restaurant itself, there was a huge area for growing mushrooms, a kitchen for making rice, one for cutting chickens and one devoted to nothing but chopping celery.
Stir-Fried Beef with Peppers and Celery
Total time: 30 minutes
Ingredients:
8oz ground beef (mince 240gr)

1 onion

1 red pepper, roughly chopped

3 ribs celery, roughly chopped

2 cloves garlic, minced

1 tbs fresh ginger, minced

1/3 cup (3oz, 90ml) beef stock

1/3 cup (3oz, 90ml) dry sherry

1 tbs soy sauce

1 tbs olive oil

1 tbs cornstarch (or thickener of choice) dissolved in 2 tbs water

Basmati Rice:

1/2 cup Basmati rice

1 cup beef stock or whatever your rice calls for
 Instructions:
Cook rice according to package directions

In large nonstick skillet heat oil over medium-high heat.

Add onion, celery, pepper and stir-fry 5 minutes.

Add garlic, ginger and stir-fry 1 minute longer.

Remove to a plate.

Add beef to skillet and sauté, breaking it up as it browns.

When beef is browned, return vegetables to skillet and add stock, sherry, soy sauce.

Cover, reduce heat to medium-low and let simmer 5 minutes.

Dissolve cornstarch in water.

Turn the heat up under the skillet and add the cornstarch mixture, stirring constantly until thickened.

Serve over

 rice
This is my least favorite time of year.
When the days are short I don't mind the cold, wet weather (much).
When the days start getting longer I start getting serious cabin fever.
My hyacinths are starting to peak through; I saw the first tulips popping up; the quince is covered in buds…..
I'm ready for spring.
Instead we have another month (or more) or cold, damp weather.
It's warm enough that the grass is starting to grow but way too wet to think about mowing.
It's cool enough that we need a fire in the house by mid-afternoon but it gets too warm by evening and it's definitely not soup weather.
It's just not much of anything.
We are in the doldrums.
Sigh…..
And I'm not even up to my eyes in snow like a lot of people…..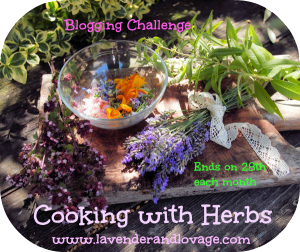 This has been entered into the Cooking with Herbs Challenge, hosted by Lavender and Lovage.
This month features Chinese and Romance Inspired Cooking with Herbs. The round-up will be after March 1.
Last Updated on February 7, 2014