Lemon Spinach and Chicken Salad, more shopping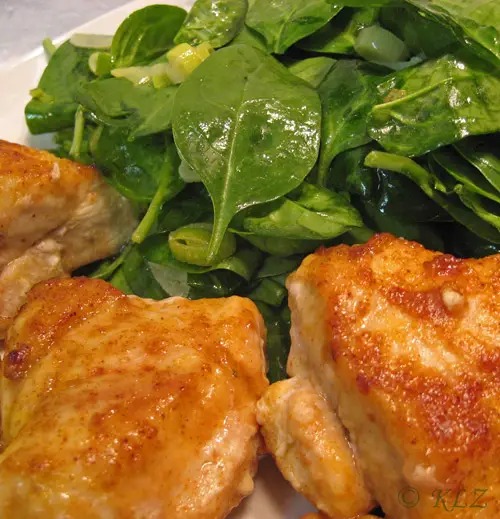 We went on 'summer time' this morning.
Yes, I know that the U.S. changed their clocks a few weeks ago, but here, as in so many things, we do it the more traditional way: the last Sunday in March and the last Sunday in October.
With spring comes all of the wonderful spring vegetables: freshly picked spinach, green garlic, asparagus, artichokes.
And we can start eating salads again.
The brown sugar and paprika make an interesting, light crust on this chicken.
I cut the breasts in half, the short way. They cook a bit faster and it makes a nicer presentation with the salad.
Lemon Spinach and Chicken Salad
Total time: 25 minutes
Ingredients:
For the chicken:

2 chicken breasts, boneless, skinless

2 tbs flour

1 tbs brown sugar

1 tsp paprika

1 tbs olive oil

1/2 cup (4oz, 120ml) white wine

2 tbs fresh lemon juice (1/2 lemon)

For the salad:

6oz (180gr) fresh spinach

2 green garlic

or 2 green onions and 1 clove garlic

2 tbs fresh lemon juice (1/2 lemon)

1 tbs olive oil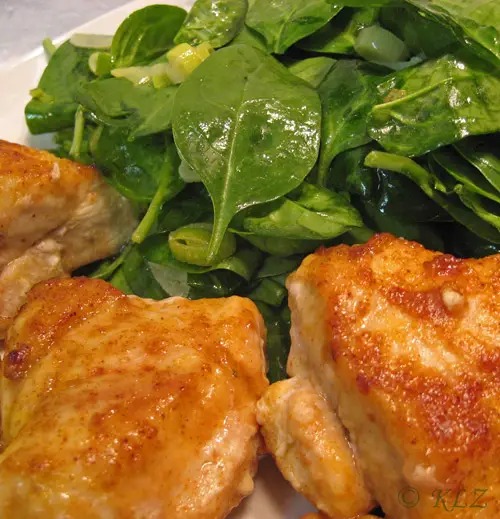 Instructions:
The chicken:

Mix flour, paprika and brown sugar.

Cut chicken breasts in half. Roll in flour mixture to coat.

Heat a large nonstick skillet. When hot, add oil, chicken and brown well on both sides.

Add lemon juice and white wine, cover, reduce heat and simmer 10 minutes, or until done.

The salad:

Slice green garlic, including green tops (or green onion and garlic).

Sauté lightly in olive oil.

Add lemon juice. Keep warm.

Pick through the spinach, discarding any wilted or damaged leaves. Wash and spin dry if necessary.

The finish:

When chicken is done remove and place on a platter.

Add 2 tbs of the chicken cooking liquid to the green garlic.

Turn heat up under the chicken skillet and reduce the rest of the liquid by half.

Put spinach in a bowl.

Pour the warm green garlic and juices over the top, toss well to coat and wilt slightly.

Arrange spinach next to the chicken. Pour the reduced cooking liquid over the chicken and serve.
I've been having fun shopping again.
A friend from my French conversation group (and a fellow gardener) told me about a wonderful garden site: enGraineToi
Seeds can be expensive here and sometimes difficult to find.
Rainbow chard, for example, is readily available in the U.S. I found some here last year, for the first time.
It was labeled as decorative. It was meant to be put into planters as foliage.
I paid about 3 dollars for a pack of seeds that planted a 3 foot long row – and I had to be very careful with the seeds.
This site has 'exotic seeds'.
It has acorn squash and Hubbard squash and bok choy and sweet corn and rainbow chard and pink lipstick chard and Chinese beans and purple spinach and (my favorite) penis peppers. Seriously, that's what they're called – and they're the most expensive seed on the site!
I has lots and lots of heirloom tomato seeds.
The best part, though, is that everything is sold in small quantities.
At the regular garden store I can buy a packet of green bean seeds for around 7 dollars. It would be enough to plant an acre of green beans.
On this site I can buy 20 seeds.
So I can get 2 or 3 different kinds, for less money and still not have too many seeds.
Why do I need to spend 4 dollars on a packet of 50 zucchini seeds when I only want two plants?
Almost everything on this site is around 1.50 dollars a packet.
I bought a lot of different tomato seeds – each packet has 20 seeds.
And the variety!!!!!
I bought green, white, yellow and purple cherry tomatoes….. Normally I have just boring old red.
There was a time when I got this excited over a shoe sale.
What can I say – I've done shoes; now I'm doing food.
I can almost taste those tomatoes…..
Last Updated on March 30, 2014