For years I have seen recipes that use miso but never had access to it. One of the foods that so many people 'loved' was Miso Soup.
I've never had Miso Soup.
At least, not that I recall.
When we live in the U.S. we went to Japanese restaurants and I used to make Japanese dinners. For some reason Miso Soup escaped me.
Since I bought miso at the Asian market a few weeks ago I decided it was time.
Unfortunately, other than the miso paste, I had none of the ingredients required to make traditional Miso Soup.
No dashi, no seaweed, no tofu….
We work with what is in the pantry….
Since I've never actually tasted Miso Soup I have no idea how close this was to the real thing.
Regardless, we were most pleased.
In case you're wondering why I always use leeks and never use green onions…. I can get leeks; I can't get green onions.
Miso Soup…  

sort of
Total time: 20 minutes
 Ingredients:
1/2 medium leek, chopped

2 cloves garlic, minced

2 tsp olive oil

2 cups (16oz, 480ml)  vegetable or chicken stock

3/4 cup (6oz, 180gr) white beans

1/4 cup pearl couscous

2oz (60gr) fresh spinach

juice of 1/2 lemon (2 tbs)

1 tbs light miso dissolved in 2 tbs water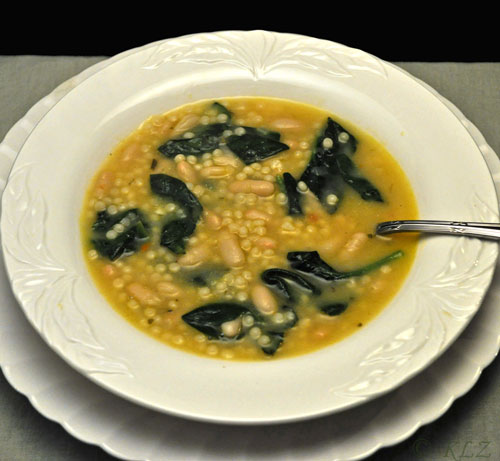 Instructions:
Sauté leek and garlic in olive oil for 5 minutes.

Add stock, couscous and cook until couscous is done, about 10 minutes.

Add beans and heat through

Remove from heat and stir in lemon juice, miso and spinach..

Divide into 2 bowls and serve.
I may have mentioned on one or two occasions in the past that life is different here.
It's slower.
Everything is slower, more relaxed, less intense.
I used to blame my impatience on being American and used to things being done quickly.
I think I now have to blame my Type-A personality.
It just continues to amaze me how long simple things take.
We changed banks last fall.
The nice young man at our new bank told us it would be easy.
It was…. mostly.
We were told to make certain that all of the automatic payments were changed.
The last two were quarterly payments due in December.
When I received the notices, I wrote letters explaining that we had changed banks, sent the new details and asked them to make the change.
They didn't.
They debited the old account and I quickly transferred the money to cover.
I waited for some sort of response to my letters.
I waited some more.
Three months later, just before the next payments were due I received letters asking me to verify the change.
I did and the changes were made.
I then wrote to the old bank, asked them to close the account and transfer the balance to our new bank.
I waited for some sort of response to my letter.
I waited some more.
Finally our old debit cards were canceled and the fees reimbursed to the account so I knew the bank had received my letter.
I waited for them to close the account.
I waited some more.
I only have so much patience….
I transferred the money out myself, leaving a zero balance in the old account.
The next day I checked the account and there was a service charge – the account was now overdrawn.
I decided to pretend to be French and wait some more.
I checked every day – still there, nothing else happening.
Finally, after only 10 days, they reversed the service charge and the balance is, once again, zero.
Can't wait to see what tomorrow brings.
It was just a simple checking account…..
Last Updated on April 9, 2014