Okay, not really…. but my pretty Christmas tree napkins were noticed on my Christmas table: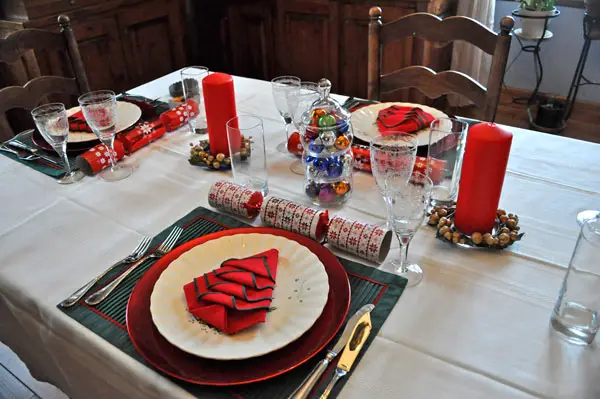 And a request was made for instructions.
As a picture speaks more than a thousand words…..
1. Start with a square napkin folded in half, then in half again.
2. Turn the four loose (not folds) corners up.
3. staggering them
4. Flip it over
5. Fold one side at an angle
6. Then fold the other, so that you have a point at the bottom
6. Flip it over again – and turn 180 degrees
7. Turn the top point up.
8. Turn the rest of the points up, tucking them under the fold
Voila!
I saw this on a YouTube video, that, like with so many things I look at on the internet, is lost in the mists of time. If the person who made the video sees this, leave a comment and I'll add your link.
There was also mention of seeing the rest of the dining room:
I don't do a lot of Christmas decorating in here as we don't use it often.
But it is a safe place for some of the Christmas bears, rabbits, etc. No dogs allowed.
No food today, just photos…..
And another  
Happy New Year     
 Bonne Année 2015
Last update on January 1, 2015