When we lived in the US I could get ground turkey and whole turkey tenderloins.
I can't get either here…..
But I can get these wonderful, thin turkey cutlets. They cook in minutes on the grill and are great for making 'birds' or rolls, wrapped around Prosciutto or asparagus or just about anything you like.
They also absorb the flavors from a marinade very well.
You could substitute thin pork or veal cutlets, or chicken breasts pounded thinly. 
If you can't find turkey, and want it, buy a breast or tenderloin and either have your butcher slice it or do it yourself.
Grilled Turkey Cutlets, Mustard / Soy Marinade
Total time: 25 minutes

Ingredients:
2 – 4 turkey cutlets, depending on size,  12oz total (360gr)

1 tbs soy sauce

1 tbs Dijon-style mustard

3 tbs white wine tarragon vinegar

3 tbs olive oil

1/2 tsp garlic powder

1/2 tsp rosemary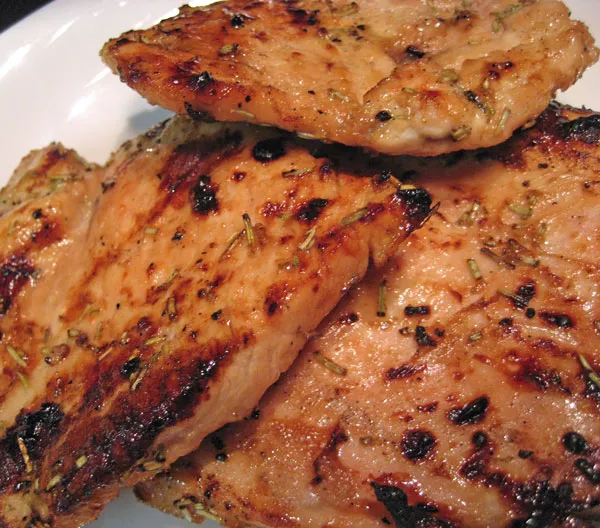 Instructions:
In small bowl whisk together all ingredients except turkey.

Put turkey in a dish and pour marinade over.  Let marinate for 15 minutes or up to 2 hours.

Remove from marinade and cook on hot barbecue grill for 3 – 4 minutes per side or until done.

OR

sauté in nonstick skillet for 4 – 6 minutes a side or until done.

Remove and serve.
The building retro continues….. with an actual bedroom for us.
This is the beginning – as always, the framework for the ceiling and the insulation.
These outside walls required a lot of patching, filling in cracks and building up the tops of the walls so the ceiling would have a level top to rest on.
Not there is anything remotely level about the ceilings…..
Remember, this had been a granary. They weren't overly fussy about the state of the walls.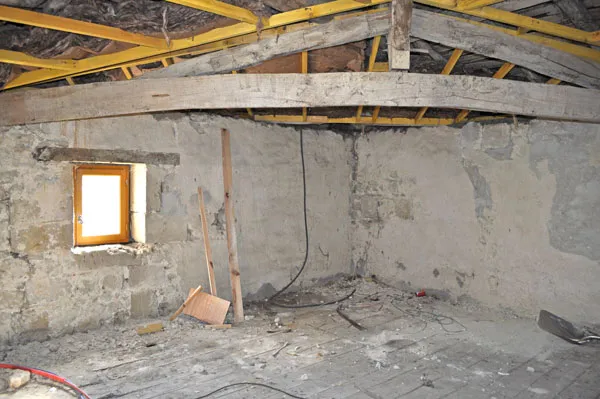 As is typical of a house this old there were no closets, anywhere. People used armoires.
We did, however, have a few chimneys, even if they had been cut off at the roof. We decided to incorporate them into the floor plan (removing them would have been a nightmare). Luckily, they were just the right size to fit into a closet and act as a divider, giving us a flush wall.
The ceilings on this floor were all very challenging, with many different angles and levels.
We wanted to save the big beams, which he did, and refinished them.
Once the ceiling was finished, and the walls patched, he tried his hand at plastering.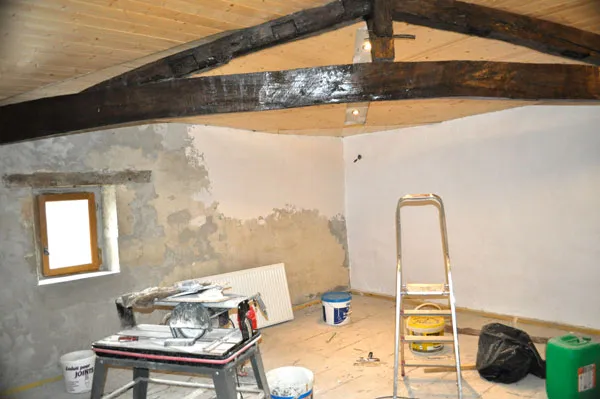 The inside walls were sheet rock – he's an old hand at that. Once they were papered, the work on the floor started.
The door on the blue wall on the right, is to the bathroom. The door with the light bulb shining is to the hall and the one on the white wall is to the first closet by the chimney,
And we finally got to move in!
This is the photo I took right after we moved in – when things were still very dusty.
When I'm done with all of these memories, (and my house is clean) I'll take current photos of all of the rooms.