Seems like months since we're had a simple roast salmon for our Friday Fish.
It seems like every time I mention it, someone comes up with a different idea.
These, however, met with complete approval.
The sesame crust adds just the right amount of crunch to these flavorful salmon fillets.
Roasting keeps the crust nicely in place.
Sesame-Crusted Salmon
Total time: 20 minutes

Ingredients:
2 salmon fillets or steaks, 12oz total weight (360gr total)

2 tbs sesame seeds

2 tsp soy sauce

2 tsp sesame or walnut oil

1 tsp brown sugar

1/4 tsp ground ginger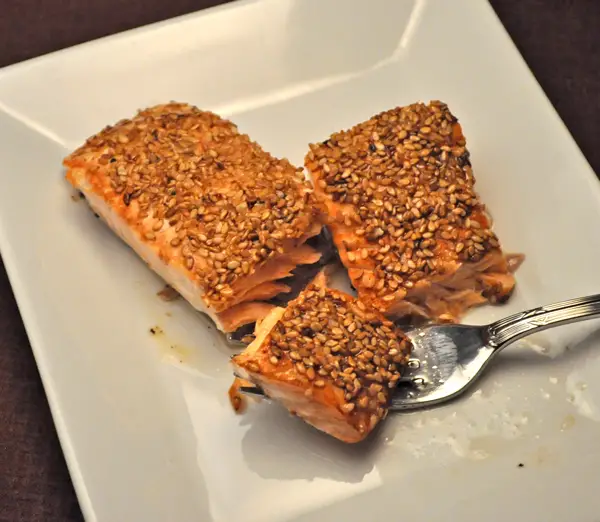 Instructions:
Mix soy sauce, sesame oil, ginger and brown sugar in a small bowl, whisking until sugar and ginger are dissolved.

Put salmon on a baking sheet with a lip.  Divide soy mixture and spoon over salmon, coating evenly.

Sprinkle sesame seeds on top of each filet, pressing them in lightly.

Bake in 400F (200C) oven for 15 – 17 minutes, depending on thickness.  Salmon will be done when it flakes easily, slightly pink in the center is fine.  The sesame coated top should be a golden brown when done.  Remove and serve.
It's been a week and my computer seems to be working properly, finally.
Which is a very good thing as my computer guy is on holiday for a month – with no phone or internet.
It seems almost impossible to imagine, doesn't it?
I remember the days, back in the beginning of time, when we used to take the rare weekend off and go somewhere warm in the winter. It would be without phones and without work and it would be wonderful for 2 or 3 days….
Do people do that anymore? I mean, go away to relax without being in constant contact with the everyone?
Another thing we used to do in winter is have Progressive Dinners…. Do people do that anymore?
Actually, I think it was already kind of 'retro' when we were doing it….
For those of you who don't know, a Progressive Dinner is a neighborhood party in which people go from house to house for dinner. One house has the cocktails, then everyone goes to another house for the first course, and another for the soup, and so on. Because it's all in the neighborhood, everyone walks.
Why we did this in Minnesota in the winter is beyond comprehension – what with below zero temperatures and the coats and boots and snow and ice and all. And we lived on an island with barely plowed roads and no sidewalks…. (It was a small island, only 24 houses around the perimeter, a woods in the middle, and it was connected by a road and bridge.)
The first year we did it I volunteered to host the dessert.
How could I have thought that having 30+ people, who had been drinking and partying all night, end up at our house for dessert was a good idea.
I made blueberry crêpes.
Really…. What was I thinking?
And not a single photo anywhere to memorialize the debacle.
Last update on February 3, 2016