Now that the lettuce is done we turn our attention to other salads.
It's always nice to have a salad on hand in the fridge to have for an easy lunch or quick addition to dinner.
I love pasta and rice salads, but I'm referring to vegetable salads – Cole Slaw, Cucumber Salad, Three (or Five) Bean Salad, Tomato Salad  just to name a few.
This one is slightly different in that it has lightly sautéed carrots and onions. I love cooked onions but am not a fan of raw onions. Thus my compromise.
Serve freshly made and slightly warm of refrigerate for later. It will keep several days.
White Bean, Carrot, Celery Salad
Total time: 15 minutes

Ingredients:
1 3/4 cups (15oz, 450gr) white beans (cannellini), drained, rinsed

1/2 cup sliced celery, 1 – 2 ribs

1 carrot, chopped

1 small onion, chopped

1 clove garlic, minced

2 tsp olive oil

1 tbs freshly snipped chives

2 tbs freshly snipped basil

Vinaigrette:

1 tbs tarragon white wine vinegar

1 1/2 tbs lemon juice, fresh

1 tbs Dijon-style mustard

3 tbs salad olive oil
Instructions:
Heat oil in medium skillet.  Add carrots, onions, garlic and sauté just until tender, 5 – 8 minutes.

Remove and put into a bowl.

Add beans, celery and herbs to bowl, stir to combine

Make Vinaigrette:

Put vinegar, lemon juice and mustard in a small bowl.  Whisk well.

Add oil very slowly, whisking constantly.  It should incorporate as you add it. 

Add vinaigrette to salad and stir to combine. Serve as is (slightly warm) or refrigerate for later.
We went for another bike ride today, along the canal again, but in a different place and in a different direction.
I was wondering, as I was racing along in low gear (I love to pedal hard and go fast!) on this gorgeous, flat, paved trail…..
I was wondering how many of the kids I used to race around our small town with when I was a kid are still riding their bikes.
We see all ages riding when we are out on the trails but we don't, personally, know any other adult here that rides a bicycle….. Especially not for pleasure and / or exercise.
During Tour de France season we see lots and lots of young men, in full gear, racing madly around the countryside, but I'm not counting them.
Actually, now that I think about it, other than the neighbor that I walk with I don't know more than 1 or 2 people that exercise at all.
Oh, never mind…..
On to the car.
I love it when we see something unexpected in an out-of-the-way place.
This car, an Eldorado according to the sign, was tucked into a little clearing along the trail.
Someone, clearly, has too much time on their hands,,,,,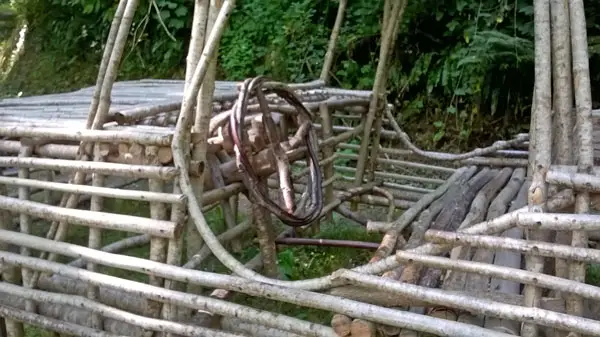 It actually has a gear shift although it's kind of hard to pick out in the photo…. all the wood kind of blending together.
And a bench seat.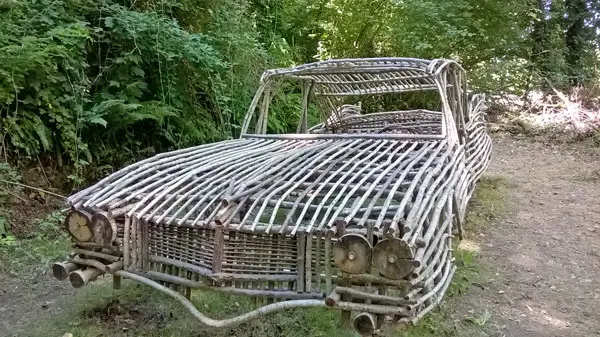 Headlights, grill front and fender were all in place.
As were the taillights.
Mon mari says it's a '59
Last update on July 27, 2016