One last asparagus recipe for those of you lucky enough to still be eating asparagus.
Adapted from the book '!,000 Chinese Recipes', this is wonderful as a vegetable, on a bit of lettuce as a first course salad, or as part of a Chinese meal.
Plus it's best if made ahead and served at room temperature so it's great for summer picnics and lazy meals.
The asparagus is 'roll-cut': cut the end off at an angle, roll 1/4 turn and slice at the same angle, roll 1/4 turn and slice, etc.This gives you interesting looking pieces with lots of surface. It's a Chinese cutting technique normally used on round vegetables such as carrots, green beans and… asparagus.
Chinese Asparagus Salad
Total time: 30 minutes
Ingredients:
12oz (360gr) green asparagus, roll-cut

2 tsp soy sauce

1/2 tsp sugar

1 tsp sesame oil

1 tsp sesame seeds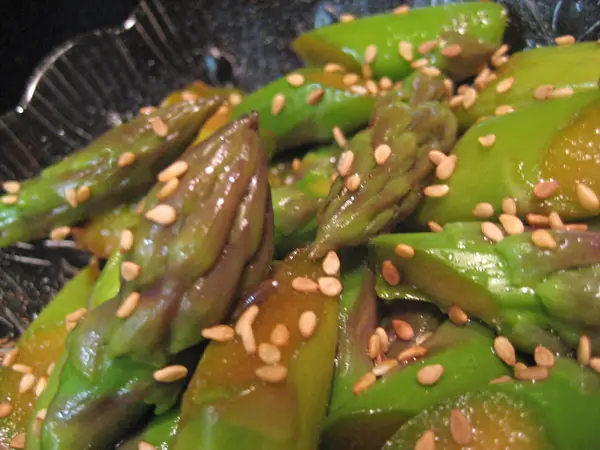 Instructions:
Fill a large saucepan half full of water and bring to a boil over high heat.

When boiling drop in asparagus and parboil for 2 minutes, 3 if very large.

Drain and immediately rinse with cold water.

Spread them on paper towels and pat dry.

In a bowl big enough to nicely hold the asparagus mix soy sauce, sugar and sesame oil.

Add asparagus and toss lightly to coat.

Sprinkle with sesame seeds. If possible allow to sit for at least 15 minutes. Serve.
You may (or may not) recall that I might have done a wee bit of complaining about birds and my potager earlier this spring.
Here is 'the other hand', so to speak…..
First, there was a young magpie that either fell or was kicked out of the nest a few weeks ago.
It was laying under the walnut tree, down by the field. It appeared to have a broken leg but we were never sure.
After the first day I took some stale bread done to it, tossing it fairly close. The bird dragged himself over and ate.
I did the same thing the next day. I was hoping he would get strong enough to fly.
Sadly, he kept dragging himself out from under the trees / bushes and on the third morning there were just a few feathers…. He had become some other bird's breakfast.
Yesterday, when I came back from walking the dogs, there was a young dove sitting on the birdbath.
There were 2 adult doves sitting above on the telephone wire.
He was still there later so I took a photo, just before sunset.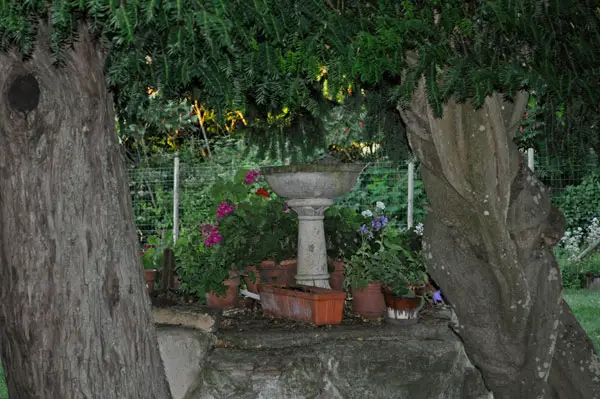 You can just barely make the bird out on the right.
After a bit of research, I learned that he is a fledgling and has been kicked out of the nest to make his own way in the world. I knew that there were doves nesting in the trees above the well.
He got lucky (or not) and landed in the birdbath,
Apparently, the parents keep an eye on the fledglings for a day or two as it usually takes them that long to fly the first time.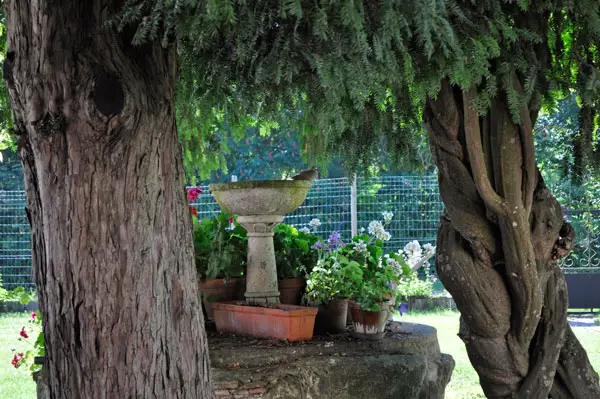 He was still there this morning.
He moves around the edge of the birdbath and ignores the meanderings of dogs and humans.
Mother dove has been to visit and feed him at least once that I saw.
We have no idea how long he will stay or if / when he will get up the courage to take flight.
Mon mari just went out to water the flowers around him and, apparently, he just sat and watched.
If the birdbath wasn't full of water I'd toss to seed or bread to him. As it is I guess I'll just have to let mom handle it.
It has been an interesting early summer.
Last update on June 29, 2018