I've been making a lot of zucchini bread.
The only kind I've never made is the one that used to sneak into our office a million times every  summer 25 years ago. You know the one… It was just called 'Zucchini Bread'….
Not Double Chocolate Zucchini Bread or Lemon Zucchini Bread or Cheese & Olive Zucchini Bread.
I remember that it was light in color and the green zucchini flecks were very visible.
I tend to use white or yellow summer squash which is less obvious.
I think I may be done with it for a bit, though. Today is the first day since the beginning of July that I had no summer squash to harvest. Tomorrow yes, but not today.
Chocolate Chunk Zucchini Spice Bread
Total time: 75 minutes
Ingredients:
3 eggs

1 cup vegetable oil

1 cup dark brown sugar, packed

1 cup white sugar

2 cups grated zucchini

1 cup chopped walnuts

1 cup chocolate chips or chunks

2 tsp vanilla

3 cups flour

3 tsp cinnamon

1/2 tsp nutmeg

1/2 tsp cloves

1 tsp salt

1/4 tsp baking powder

1 tsp baking soda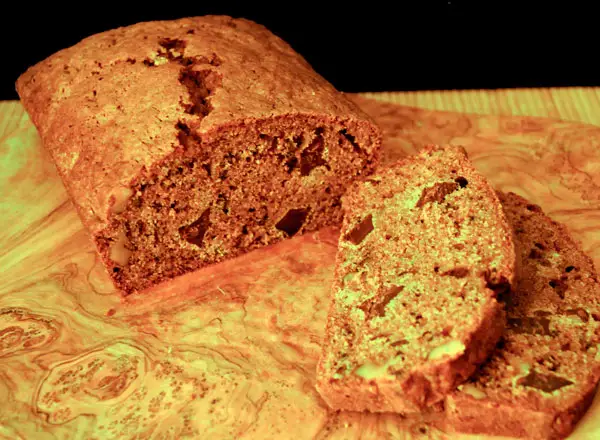 Instructions:
Preheat the oven to 350F (175C).

Prepare 2 9 X 5 loaf pans: buttered and floured.

Cream together eggs and sugars.

Add oil and beat lightly.

Stir in zucchini and vanilla.

Add the rest of the ingredients (put the flour on top first and the rest of the ingredients on top of the flour) and stir in well.

Divide batter evenly between pans and bake for 55 – 60 minutes. The top should be cracked and look dry. Test with a toothpick inserted into the middle: it should come out clean and dry. If not done leave in for 5 more minutes and test again. Timing will depend a little on the moistness of the zucchini.

Remove and let rest in the pans for 5 minutes. 

Remove from pans and cool on wire racks.

Slice and serve or wrap and freeze.
Do you watch Synchronized Swimming in the Olympics?
The other morning, as the girls and I went out the gate for our walk, there was a line of bunnies, about 12 of them, sitting perfectly in a row on the edge of the lane, facing the field, nibbling on the grass.
We see a lot of bunnies on our morning walk. It's very early and the bunnies are all out and about eating and playing. It's fun to watch them but that is why our morning walks are always on leashes.
Anyway, as we walked down the lane, instead of making the normal mad dash as a group, one by one the bunnies jumped over the ditch into the field. I swear they were counting off.
Synchronized bunny hopping.
By the time the last one cleared the ditch I was laughing so hard I feared waking the neighbors.
Sadly, that is the last happy, carefree bunny moment.
A few days earlier 8 guys from the village were here.
They had come several weeks earlier asking permission to trap the bunnies. Apparently the local farmers had asked for help as the bunny population was decimating their crops.
I had no problems with trapping. I assumed they would be caught, quickly dispatched and end up in the pot for dinner.
The guys spent about an hour in the field across from us, talking and wandering about. I wasn't watching closely,,,,
They went down to the end of the lane, by our neighbor's house and spent another hour talking and wandering.
Finally, they came back to our house and spent yet another hour by my potager.
Then they all got back in their cars (8 guys; 8 cars) and left.
Later mon mari when out to inspect the traps.
There weren't any.
No traps.
So…. We asked ourselves (and our neighbor) what did they do here for over 3 hours?
Obviously, something nasty.
We have been seeing sick and dying bunnies everywhere for the last few days.
I am not happy.
The other morning I had to nudge a little baby bunny off the road with my foot. It would have been kinder to just kill it but I couldn't convince myself to do that. The best I could manage was to get it off the road and into the bushes so maybe it could die in peace. It was obviously blind, mostly deaf, and very lethargic.
Yesterday the dogs cornered one inside the fence. I got the dogs away and, again, nudged the bunny to a sheltered area. It couldn't see and was very frantic and confused.
It looks like myxomatosis. I suppose it could be any kind of poison.
I realize that farmers want to save their crops…. But do they have to be cruel? It's taking these rabbits days to die.
Yes, I know…. I've done my share of complaining about the bunnies but I would have rather had them around to complain about then this.
This makes me heartsick.
Sunset for the poor bunnies:
I will always remember the Synchronized Bunny Hop…. our last happy bunny moment.
Last update on August 19, 2018