I had a discussion recently, with a Canadian friend, who was amazed that we don't have collard greens in France.
We don't have mustard greens either.
The French eat the chard stems, which are very wide on the variety grown here, and discard the leaves.
I can buy Old El Paso taco kits here but I rarely see what is called 'white cabbage' here and just plain 'cabbage' in the U.S, – and in Ireland, Germany, and countless other places. It's the cabbage used to make coleslaw and sauerkraut.
The common cabbage in our area is green or Savoy cabbage.
It may not make good kraut but it makes a great stir-fry.
I love learning about new vegetables. There is an effort here to bring back old, underappreciated, varieties.
More fun…. once I figure out what to do with them.
Click here to Pin Skillet Salmon, Stir-Fried Cabbage
Print
Skillet Salmon, Stir-Fried Cabbage
I cut the salmon filets in half for easier handling. You could also use salmon steaks.
2 cups of cabbage is 1/4 – 1/3 medium size head…. or just measure in a coffee mug.
Author:
Prep Time:

15 minutes

Cook Time:

20 minutes

Total Time:

35 minutes

Yield:

2

servings

1

x
Category:

Fish
2

salmon filets, 6oz (180gr) each, cut in half

2

tbs ketchup

2

tbs sweet soy sauce

2

tbs Balsamic vinegar

2

tbs olive oil, divided

4oz

(120gr) mushrooms, trimmed, roughly chopped

1

medium leek (1″ diameter) trimmed, rinsed, thinly sliced

2 cups

Savoy cabbage, roughly chopped

2 tsp

sesame oil
Instructions
Combine 1 tbs each soy sauce, ketchup, vinegar, and brush over salmon.
Allow to marinate for 10 minutes while you cut the vegetables.
Heat 1 tbs oil in medium non-stick skillet over medium-high heat.
Add salmon, skin-side up, and sauté 5 minutes, until it starts to brown.
Turn skin side down and sauté 6 – 7 minutes longer.
Turn the heat to low, cover and let finish cooking, about 5 minutes longer, depending on thickness.
Heat remaining 1 tbs oil in a medium – large skillet.
Add leeks, musrhooms, cabbage, and stir-fry unitl tender, about 10 minutes.
Add remaining soy sauce, ketchup, vinegar, and sesame oil. Stir well to combine.
To serve: Divide vegetables onto 2 plates and top with salmon.
Notes
You can substitute a medium onion, chopped, for the leeks. If you do, stir-fry that first for a few minutes before adding the cabbage and mushrooms.
In either case, if you want the vegetables more done, reduce heat and cover for 5 minutes to finish.
Keywords: skillet salmon, pan-fried salmon, fried cabbage
The big holiday weekend in the U.S., with lots of people traveling and having big, indoor gatherings, is over.
It makes me sad to think of the repercussions in the weeks ahead.
It cheers me to look at the last bit of nature showing off her colors before winter takes hold.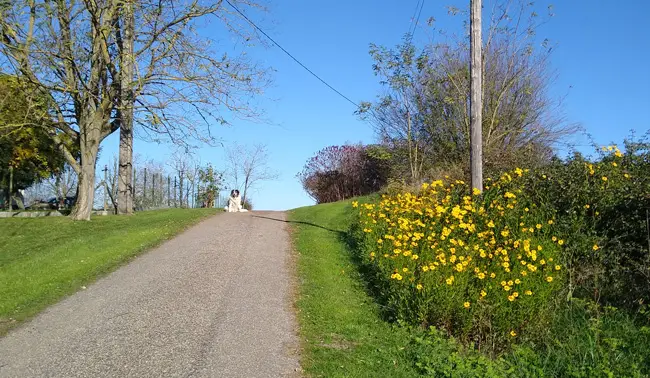 I don't know what they are – and it's not important enough for me to take the time to do a search.
They bloom every year at this time.
For a few weeks before winter we have an abundance of yellow flowers.
They make me happy.