When I was growing up chicken always came as a whole bird that had to be cut up. The heart, gizzard, and liver were always in a little paper bag in the cavity of the bird.
My mother cooked it all. My father ate the heart and gizzard and my mother ate the liver – along with other parts, of course. In my mind the offal was a treat that we children were not allowed to have.
Eventually, I was 'old' enough to have a taste. I refused the heart, tasted the gizzard and said no thanks, but loved the liver. We regularly had calves liver with bacon and onions so the flavor was familiar.
When I was an adult, living on my own and starting to entertain, rumaki was my standard for serving with drinks. For those unfamiliar – rumaki is chicken liver and water chestnut, marinated in soy sauce, wrapped in bacon, skewered on a toothpick and baked. If I could find water chestnuts I would make some right now! (They were very popular on pupu platters…. I miss drinks with umbrellas, too.)
Chicken livers were a popular item on the menus of the local restaurants in my small town and the neighboring small towns.
I don't often think about buying them, but occasionally I see them. When I do, I buy them.
Click here to Pin Linguini with Bacon & Chicken Livers
Print
Linguini with Bacon & Chicken Livers
Liver with Bacon & Onions is a classic. This has chicken livers and linguini – simple main course if you love liver.
Author:
Prep Time:

10 minutes

Cook Time:

15 minutes

Total Time:

25 minutes

Yield:

2

servings

1

x
Category:

Pasta
10oz

(300gr) chicken livers, cut in half

3oz

(90gr) smoked bacon, 3 – 4 slices, chopped

1

medium onion, chopped

10

–

15

fresh sage leaves, chopped

2

tbs olive oil

4oz

(125gr) linguini
Instructions
Cook pasta according to package instructions.
In large nonstick skillet heat 1 tbs olive oil over medium heat. 
Add onions and sauté 5 minutes. 
Add bacon and sauté until crisp. 
Add remaining 1 tbs oil if needed (my bacon is very lean so I need it).
Add sage and livers to pan and sauté 5 – 8 minutes. 
Cover pan and turn heat to low and let 'rest' 5 minutes more.  
Add pasta, toss to combine and serve.
Notes
If you don't have fresh sage substitute 1 tbs dried sage or 2 tbs fresh parsley.
The 'sauce' is the olive oil and bacon fat – there should be 2 – 3 tbs. Either drain the bacon or add oil as needed
Nutrition
Serving Size:

1/2 recipe

Calories:

623

Sugar:

3.9 g

Sodium:

403 mg

Fat:

28.7 g

Saturated Fat:

6.8 g

Trans Fat:

0.1 g

Carbohydrates:

51 g

Fiber:

4.2 g

Protein:

39.6 g

Cholesterol:

534.6 mg
Keywords: chicken livers, linguini, pasta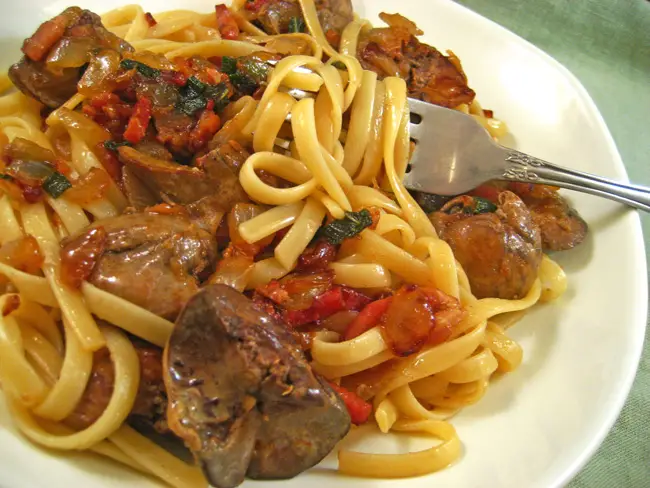 The good news is that Google has decided to attempt to make the internet better and faster for all of us.
The bad news is that some of us have to figure out how to do that.
Core Web Vitals are a set of metrics that measure a site's speed and responsiveness, with an emphasis on mobile usability.
Now you know…. Aren't you glad I told you?
I have tried telling myself that my 3 sites were in need of a makeover anyway. Then I tell myself that spring is really the best time to be doing this – nothing else going on, right? Spring gardening / planting can be done anytime.
It would be a lot easier if I knew how to make my sites compliant, but that would take all the fun out of it, wouldn't it?!?
As always, I learn by doing, one issue at a time. Fortunately, there are a lot of sites that give limited breadcrumbs on how to go about it all.
Here's the weird part….. I really enjoy doing this stuff. I like puzzles and this is a puzzle that needs to be teased apart, resolved, then put back together again.
Just don't talk to me while I'm in the middle of it.