It was pointed out to me the other day that one of our favorite recipes was on my website (Thyme for Cooking) but not on this blog.
How could that be?
I looked.
They were right.
I can't believe I have never posted this.
I shall now rectify the situation.
I should add that even people who think they don't like summer squash / courgette / zucchini usually like this version…. Bacon makes everything (almost) better.
Click here to Pin Summer Squash with Bacon & Onion
Print
Summer Squash with Bacon & Onion
A bit of salty bacon and sweet red onion adds big flavor to simple, sautéed summer squash.
Author:
Prep Time:

5 minutes

Cook Time:

20 minutes

Total Time:

25 minutes

Yield:

2

servings

1

x
Category:

Summer Vegetables

Method:

Skillet
1

summer squash (courgette, zucchini), about 8″ (20cm) long, sliced into rounds

2

slices bacon, roughly chopped

1/2

red onion, roughly chopped

2 tsp

olive oil
Instructions
Heat the oil in a nonstick skillet over medium heat.
Add bacon and sauté until crisp.  Remove and set aside.
Remove all but 2 tsp fat from skillet.
Add onion and sauté until tender and starting to brown.
Add squash slices and stir fry until they just start to soften.
Crumble bacon and add to squash.
Cover, remove from heat and let rest 1 – 2 minutes to finish.  Stir and serve.
Notes
For a vegetarian version with similar flavors substitute 1/4 cup chopped dry-cured Greek olives for the bacon.
Nutrition
Serving Size:

1/2 recipe

Calories:

183

Sugar:

3.5 g

Sodium:

191.9 mg

Fat:

16 g

Saturated Fat:

4.5 g

Trans Fat:

0 g

Carbohydrates:

6 g

Fiber:

1.3 g

Protein:

4.7 g

Cholesterol:

18.5 mg
Keywords: summer squash, bacon, zucchini, onion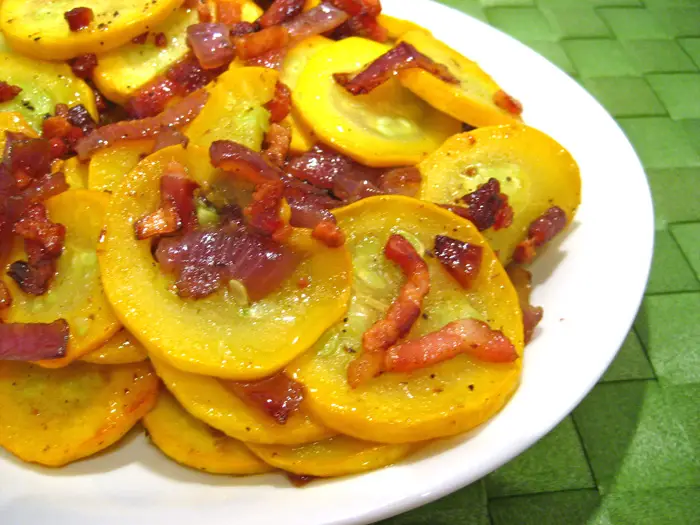 It's spider season again.
I have an irrational fear of spiders.
I use that term, rather than a phobia, because I'm not afraid of all spiders everywhere. I am terrified of them getting on me and of having them near me in a confined space – like a house or car. I can handle them outside in the garden.
The spider season I'm referring to runs from the middle of August until the end of September.
It's when the young, male European house spider is on the prowl for a little action.
They are an indoor spider – putting them outside would be cruel.
They are also rather large: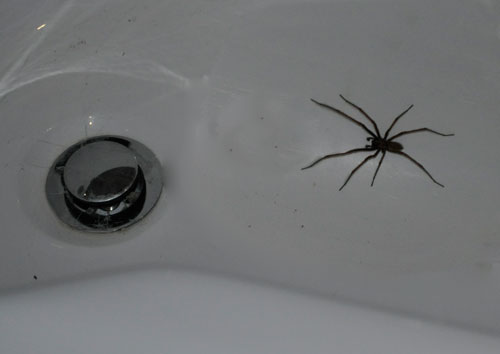 I have, through an intermediary (Guapa), tried to explain to them that if they stay out of my sight they can continue to enjoy life. But if they insist on searching for females in our bedroom, or bathroom, or closet, I will insist on mon mari summarily dispatching them. Whether he uses a broom or a shotgun is up to him as long as they are gone, never to return.
As is typical of youth everywhere, they ignore my warnings.
Why they are looking for females in the house is a puzzle as I'm sure the females stay safely in the barn.
This year is worse than usual, with me spotting one or two, duly broadcast by a piercing, but short, involuntary scream, every few days.
Mon mari is not happy.
Neither am I.
On the other hand, as we were leaving for our bike ride this morning, the sun caught this web perfectly and I had to stop for a photo:
I didn't realize the spider was at the center until I got close enough to take the photo. It was one of the pretty, green garden spiders. (Yes, I appreciate the outdoor spiders). The web was perfectly vertical, with only a few strands connecting it to the tree above the hedge it was on.
They really are interesting creatures.
BTW – European house spiders don't spin webs…. At least none that I have seen.