I could make meatballs every night and mon mari would be happy. I don't always feel like making the red sauce to go with them. Tossing them in a skillet with some vegetables seemed like a good plan.
I have never cooked the meatballs separately. Our beef is very lean so I don't ever worry about there being too much fat in the dish.
The same is true of our bacon, such as it is. I have to add oil in order to fry it.
We had this with boiled potatoes…. A childhood carryover for me. When my mother cooked cabbage, which was rare, she always served it over buttered, boiled potatoes. My mother buttered everything.
Rice, quinoa, barley or pasta would all be good with this. Or you could add potatoes right in with the cabbage (my skillet wasn't big enough).
Click here to Pin Meatballs & Cabbage Skillet Dinner
Print
Meatballs & Cabbage Skillet Dinner
We love meatballs, and small meatballs are a great substitute for almost any meat in a stew or skillet dinner.
If you have a large enough skillet, add small chunks of potatoes at the same time as the meatballs.
Author:
Prep Time:

15 minutes

Cook Time:

30 minutes

Total Time:

45 minutes

Yield:

2

servings

1

x
Category:

Beef

Method:

Skillet
Meatballs:

12oz

(360gr) ground beef 

3

tbs breadcrumbs

1

egg

2

tbs ketchup

2

tbs red wine or beef broth

1

tbs Dijon-style mustard

1

tbs Worcestershire sauce

1/2 tsp

garlic powder

1 tsp

paprika

1 tsp

chili powder

1 tsp

dried oregano

1 tsp

dried basil
Cabbage:

1/3

Savoy cabbage, about

3 cups

sliced

1

onion, chopped

2

cloves garlic, minced

1 tsp

chili powder

1 tsp

oregano

1 cup

(

8oz

, 240gr) tomatoes, peeled, chopped, with juices

1/2 cup

(

4oz

, 120ml) beef broth

1

tbs olive oil
Instructions
In medium bowl lightly beat the egg with a fork.
Add breadcrumbs, ketchup, wine or broth, mustard, Worcestershire, paprika, chili powder, garlic, herbs, and mix well.
Add beef and mix well — use your hands and knead like bread dough.
Form into small meatballs, about 1″ (2.5cm) in diameter. Set aside.
Heat oil in a large skillet over medium-high heat.
Add onions, garlic, chili powder, and sauté 5 minutes.
Add cabbage and stir-fry 5 minutes longer, just until it starts to wilt a bit.
Add broth, tomatoes, juices, oregano and stir well to combine.
Cover and let cook until hot.
Add meatballs, tucking them into the cabbage. Cover and simmer 20 minutes, turning meatballs and stirring cabbage once.
Serve from the skillet with simple boiled potatoes.
Notes
If you are using white cabbage, rather than the green Savoy, cook it, covered, for 10 – 15  minutes before adding meatballs.
An easy way to get similar-sized meatballs: divide the meat mixture into 4ths, then each portion into 4ths again… 16 small meatballs!
Nutrition
Serving Size:

1/2 recipe

Calories:

664

Sugar:

15.1 g

Sodium:

1058 mg

Fat:

36.7 g

Saturated Fat:

11.9 g

Trans Fat:

1.5 g

Carbohydrates:

39.3 g

Fiber:

9.4 g

Protein:

42.1 g

Cholesterol:

208.6 mg
Keywords: meatballs, cabbage, Savoy cabbage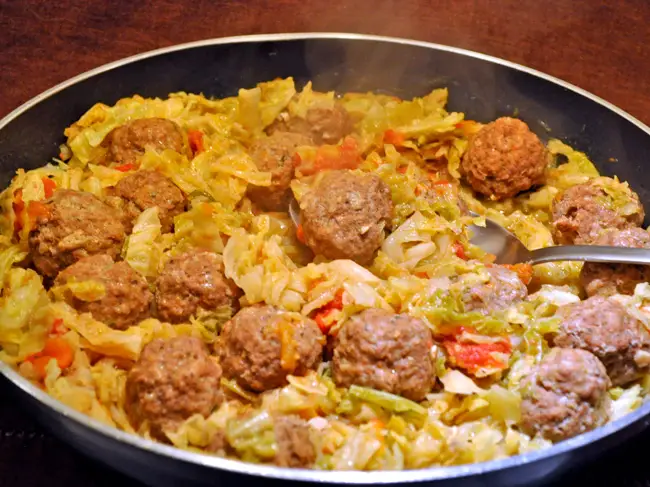 We are summoned to appear before the Powers That Be (PTB).
Nothing serious…. just the renewal of our 10 year residency permit.
All the paperwork was filed in January; this is just the final step.
It's different, this time, of course…. partially do to changes in the government and partially due to the pandemic.
When we got our 1 yr, and 5 yr, and the first 10 yr, we did it all with the local mayor. It was very informal with a lot of chatting about anything and everything followed by the assurance that he or she would 'take care of it'.
This time it's official. We have to go Department Headquarters (Prefecture). We're even going to be finger-printed.
But, due to the pandemic, there are additional protocols. We have to wear a mask, of course, but we also have to bring our own black ink pen. We are not allowed in the building at the same time and each appointment is exactly 15 minutes. We must wait outside until called.
Our appointments are late Friday afternoon. I'm not sure if that is good or bad. The person is either going to be exhausted and in a rush to start the weekend (good) or exhausted and really cranky that they have another appointment this late in the day (bad).
Wish us luck.