If I was trendy I would call this a 'sheet pan dinner'.
I'm not trendy and I don't have sheet pans.
For some reason, maybe because ovens here are small, sheet pans are not popular, One could say they are almost non-existent.
The cookie sheets I have were purchased at Williams-Sonoma 25 years ago.
Quality lasts. But they are flat, no edges, so only good for baked stuff.
I've never seen a cookie sheet here, either…. Maybe because the French don't really make cookies.
I digress.
This is an easy dinner, made in a roasting pan.
Click here to Pin Roast Pork Tenderloin with Apples
Print
Roast Pork Tenderloin with Apples
Pork and apples naturally compliment each other: the sweet-tart flavor of the apple brings out the sweetness of the pork. With potatoes and carrots this is a simple meal needing little attention.
Author:
Prep Time:

15 minutes

Cook Time:

40 minutes

Total Time:

55 minutes

Yield:

2

servings

1

x
Category:

Pork
1

pork tenderloin, 12oz (360gr)

2

medium potatoes, cut into wedges, 1/2 X 2″ (

1.25

X 5cm).

2

–

3

medium carrots,  cut into sticks, 1/2 X 2″ (

1.25

X 5cm).

1

apple – Golden Delicious or Granny Smith

1

tbs brown sugar

1

tbs Balsamic vinegar

2

tbs olive oil

1

tbs butter
Instructions
Trim tenderloin if needed, but leave whole.
In medium bowl mix sugar and vinegar, stirring until sugar is dissolved.
Add oil and mix well.
Add potatoes, carrots and toss to coat.
Spread the potatoes and carrots out in a baking dish large enough to hold everything easily.
Coat tenderloin with remaining vinegar/sugar and place in center of pan, with vegetables around it.
Bake, uncovered, in 400F (200C) oven for 20 minutes.
After 15 minutes, cut and core apple. Slice into thick wedges.
Melt butter in nonstick skillet, add apples and toss to coat well.
Remove pork and vegetables from oven.
Turn the pork and stir the vegetables, turning them also.
Arrange the vegetables in a single layer, with pork on top of some of them, in the center of the pan.
Lay the apple slices around the vegetables and return it all to the oven for the last 20 minutes.
Remove, let the pork rest while you arrange the potatoes, carrots and apples on a small platter.
Slice the pork and place on top.
Pour over any pan juices and serve.
Notes
Remember, slightly pink is fine for pork – and keeps it juicier.
Keywords: roast pork, apples, potatoes, carrots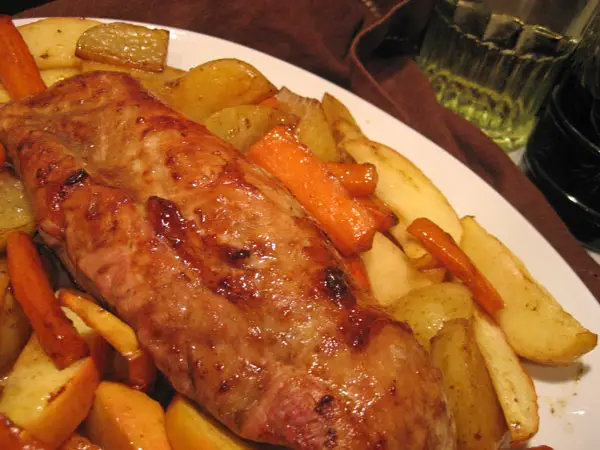 It's my turn to host our monthly book club meeting in November.
We meet in the afternoon, so we normally have coffee / tea and something sweet.
Since it's fall I was thinking of making an apple coffee cake.
Since I have never made a coffee cake, apple or other, I started searching online.
I found a few promising recipes but, sadly, I had to abandon the one that sounded the best.
The first photo, of the whole coffee cake, looked scrumptious.
As did the second photo of a slice of the coffee cake.
Then there were photos (big photos) in the following order:
Utensils to make the cake.
Ingredients to make the cake
Each ingredient being measured (separate photos).
A photo of an apple with a knife next to it.
A photo of the apple partially peeled, with a hand on the knife.
A photo of the peeled apple, with the peeling artfully arranged next to it.
A photo of the apple cut into quarters.
A photo of the apple with 1 quarter having had the core sliced out.
A photo of the apple……. and on and on and on and on.
You see where I'm going with this, don't you?
But the recipe looked really good so I kept scrolling.
When I got to the the photo of the author's toddler eating a piece of coffee cake I was ready to close the page.
When I got to the 2nd photo of the toddler eating the cake I did close the page.
Yes, the kid was cute. Yes the cake looked delicious, but I really, really just wanted the d*mn recipe!
How do you people have the patience to get through all of those inane, insipid photos just to find a list of ingredients?
I think my next search for an apple coffee cake will be in my collection of church cook books from the '70's. Some of those recipes are just a list of ingredients as the assumption was that everyone knew how to make a cake.
And how to peel an apple.
Hmmmm….. I may have complained about this in the past. Apparently, neither the blogs nor my appreciation of them have changed.