I've been thinking about Morocco again.
Our conversation class resumed last night and everyone was talking about travel – where they had been and where they were going and where they hoped to go someday.
I'm ready to pack my bags and head off somewhere.
It doesn't take much to make me want to travel.
But, as you know, I've been interested in Moroccan cooking recently.
It really seems like I should get some first-hand experience.
In the meantime….
Chicken, Butternut Squash Tagine
Total time: 30 minutes
Ingredients:
3 chicken thighs

3 chicken legs

4 shallots, sliced

8oz (240gr) butternut squash, cut into large chunks

1/4 tsp powdered ginger

1/4 tsp cinnamon

1/2 tsp cumin

1/2 tsp paprika

1 tsp Herbes de Provence

1/4 cup dry-cured Greek olives, cut in half

1/4 cup almonds

1 tbs olive oil

1 cup (8oz, 240ml) chicken broth

1 tbs cornstarch (maizena) dissolved in 2 tbs water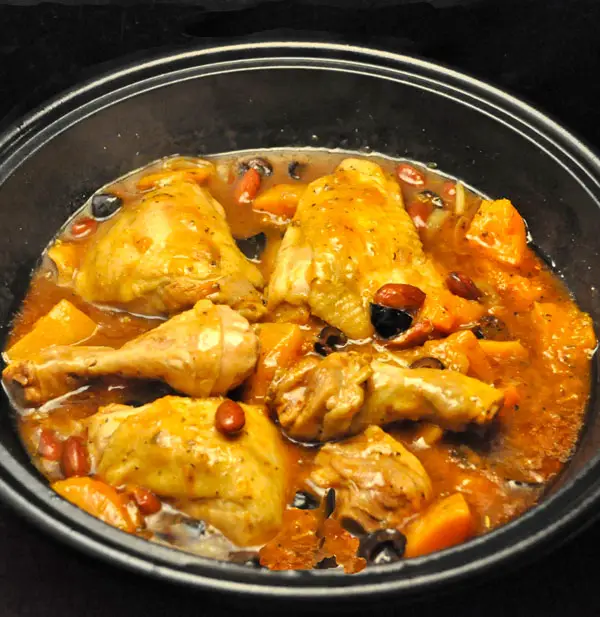 Instructions:
Heat oil in a large skillet or tagine over medium-high heat.

Add chicken and brown on both sides

Add shallots and cook until tender.

Add paprika, cumin, cinnamon, ginger, Herbes and sauté briefly.

Add chicken stock, cover and simmer 10 minutes.

Add butternut squash, cover and simmer 20 minutes longer.

Add olives, almonds and simmer 5 minutes longer.

Dissolve cornstarch in water.

Uncover tagine, increase heat and add cornstarch, stirring until sauce is thickened.

Serve over couscous or rice.
In our conversation class we are the only native English speakers.
The premise is that the French people speak English and we correct and assist them.
We speak French and they correct and assist us.
Normally that's pretty straightforward, but occasionally we're all faced with attempting to explain the almost un-explainable.
Last night I was asked to explain the difference between 'start' and 'begin'.
I opened my mouth to tell them and realized I hadn't a clue how to explain it.
I don't remember the specific sentence, but it was something that, while not wrong, was awkward…. Something like 'I heard the bell and began to answer it when…..'
I said: no, we would say 'I heard the bell and started to answer it…
They said: Why?
In our own language there are words and combinations of words that just feel correct. It's how we say things. If I'm uncertain about something I'm writing, I say it to myself to see if it sounds right.
Unfortunately, that wasn't a satisfactory explanation.
Well….. One doesn't 'begin a car', one 'starts a car'.
There's one example.
I finally told them that I would do a bit of research for our next session.
Other than the example above, everything I've been able to find says that, as a verb, they are completely interchangeable. While there are preferred usages, and perceived differences, either is technically correct (other than starting a car; starting a lawnmower, etc.)
One example I found stated that 'I started to read the book' would mean that I opened the book at a specific time to read on page 150 while 'I began to read the book' implied that at some point in time I opened the book and read the first page.
A rather fine line I think.
And I can't think of another, similar, example.
If any of you has other examples, please let me, and my French friends, know.
Are you enjoying the winter squashes?
WEEK 11:  Join the fun or just follow along:
See 12 Weeks of Winter Squash  Facebook Page for details.
Last update on January 7, 2015